Quality and quantity make a difference - thoughts from a very creative small business owner about small business digital marketing
Feedback like this makes helping people with their digital marketing worthwhile ?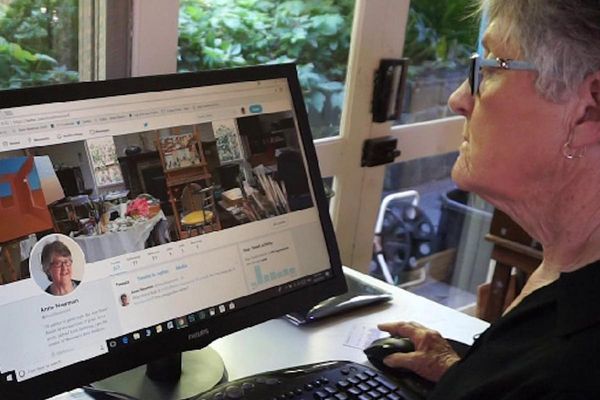 Pictured is Anne Newman Artist and following are some comments received about how influencerTips has helped to make a difference.
Key takeaway - making a commitment to post daily has resulted in subscribers, contributors and because of the quality/quantity of content organic search results.
---

Many of us shun the likes of Facebook, Twitter, Instagram etc. harbouring the erroneous thought that Facebook is about sending photos of cups of coffee endlessly around the world, Twitter is for the likes of Donald Trump who want the fewest possible words to make yourself look like an idiot and Instagram is for ... I actually had no idea what it was for?  

Hello, my name is Anne Newman and I am an artist.

I have had a website and for many many years I believed it was doing its job - displaying my work. Of course what I didn't realise was that only about 2 people in the world actually looked at the site.

Ignorance is certainly bliss.

If you are an artist who wants to engage an audience a website is essential but the website by itself is not enough. With the thousands of web designers advertising it is impossible to know who to turn to for help. It is very easy to choose the wrong designer and spend a fortune.

I turned to influencerTips for advice. Together we agreed that it was time to modernise and adapt my site to the growing use of mobile phones as the sole means of surfing the net and communicating through social media.

There a couple of things that I have learnt from this experience and these are:

Get help from people that can help - to begin with, I had absolutely no idea how to communicate my website through social media. With suggested approaches, I now have advice that I can put into action.

Be in control of your own website - it is best to have an interactive website which allows me to constantly change its appearance and its purpose whilst allowing for the continuing display of my paintings.

Engaging in social media can be a rewarding experience - to my amazement communicating and interacting through social media is making me a much better painter and a far more inspired and disciplined one.

My approach now allows the public to have a conversation with me about a specific work I have painted or any art topic of interest, people can purchase paintings and prints online and there is also a blog which has been the most challenging and stimulating aspect of the new site. Having to communicate with the public about my work is making me a better artist.

Through my daily blog and email newsletter I have learnt how to explain the thinking that goes on whilst creating a painting, I am learning to make videos to show how I paint and I am beginning to engage followers who want to "paint along" with me.

None of this would have been possible without the team at influencerTips helping me in this new and exciting adventure.

Anne Newman Artist
www.anart4life.com
---
Comments welcome